The makeup artist industry is a dynamic and thriving field that offers exciting opportunities for creative individuals. If you're seeking valuable advice on attracting and securing new clients for your freelance makeup business, you've come to the right place.
In this guide, we will explore the ins and outs of starting your journey and explain how to get more clients as a freelance makeup artist by:
Developing your makeup skills
Building your makeup kit
Defining your niche and target market
Setting up your business
Marketing and promoting your services
Organizing photoshoots to show off your work
Using gift certificates, discount coupon and loyalty cards
Managing client relationships
Financial management
Developing Your Makeup Skills
To excel as a freelance makeup artist, it is crucial to build a strong foundation in makeup artistry. You must continuously develop your makeup skills and stay up-to-date with the latest trends and techniques. Learn about the fundamental techniques, including foundation application, eye makeup, and contouring.
One of the best ways to improve your makeup skills is by practicing on yourself or others whenever possible. Experiment with different colors, textures, and products to see how they work on various skin tones and types. You can also invest in professional training courses or workshops that teach advanced techniques such as contouring, highlighting, and color correction.
If you are ready to start your career, you can enroll in a course at Anaivi Academy and get your career and business off the ground in no time.
Building Your Makeup Kit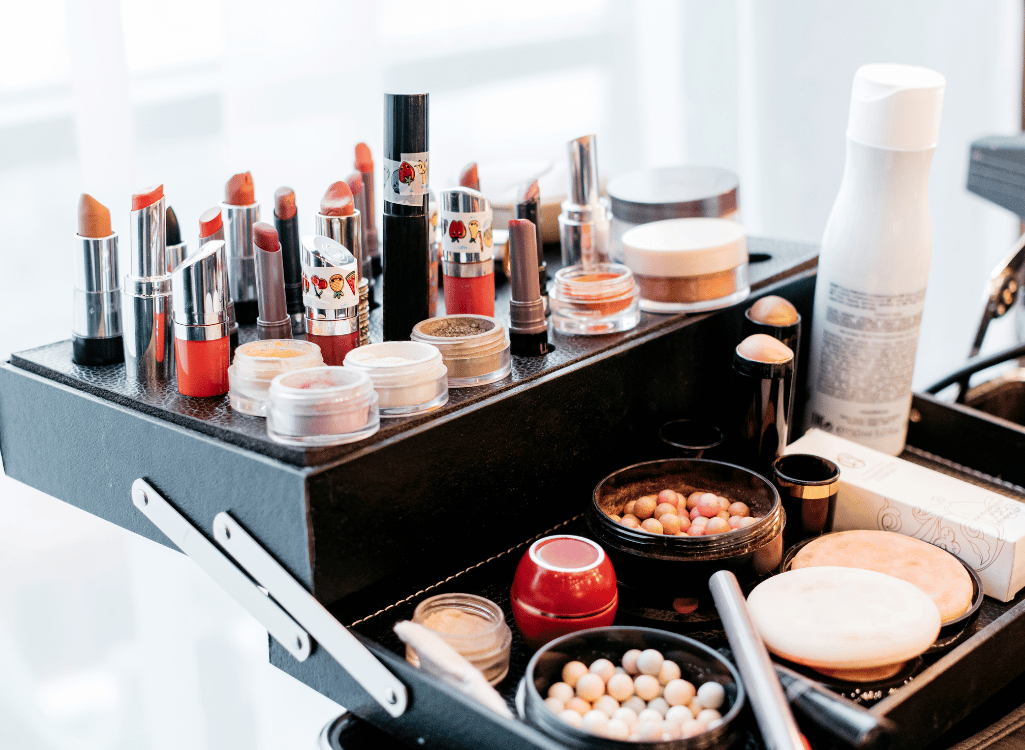 Your makeup kit is the heart of your business, so it's essential to invest wisely in high-quality tools and products. Your clients rely on you to have all the necessary tools and products to create their desired look. A well-stocked kit not only helps you get more clients but also ensures that you can complete any job with ease.
Explore the must-have items that every freelance makeup artist should have, from brushes and sponges to a versatile range of cosmetics. Discover tips on budgeting and prioritizing your purchases to ensure you have a well-rounded kit that meets the diverse needs of your clients.
Defining Your Niche and Target Market
Differentiate yourself in the competitive industry by identifying your unique style and specialization. Determine the type of clients you want to work with and research their preferences and needs. It's important to consider what sets you apart from other makeup artists and who your ideal clients are. By doing so, you'll be able to tailor your marketing efforts and services to better serve your target audience.
To define your niche, start by considering what type of makeup artistry you specialize in. Are you an expert in bridal makeup? Do you excel at creating bold editorial looks? Once you've identified your area of expertise, think about the specific services or techniques that make you stand out.
By honing in on a specific niche, potential clients will see you as an expert in that area and be more likely to seek out your services.
Setting Up Your Business
Setting up your freelance makeup artist business is an exciting venture that requires careful planning and organization. Start with navigate the legal aspects of starting your freelance makeup artist business, such as registering your business and obtaining necessary permits or licenses.
Create a professional portfolio showcasing your skills and create an engaging online presence to reach a wider audience. Additionally, learn effective pricing strategies to ensure your services are competitive and fairly valued.
Develop a streamlined booking and scheduling system to manage client appointments efficiently. And also, don't forget to set up a dedicated workspace, equip yourself with high-quality tools and products, and establish relationships with reliable suppliers.
Marketing and Promoting Your Services
Develop a branding strategy that aligns with your unique style and attracts your target market. One of the most effective ways to market yourself as a makeup artist is by creating an online presence.
Utilize social media platforms such as Instagram, Facebook and Tiktok to showcase your work, engage with followers, and build a strong online presence. Share pictures and videos of your work regularly, engage with followers through comments and messages, offer exclusive promotions for social media followers and collaborate with other professionals in the beauty industry.
Networking plays a vital role in growing your client base, so establish relationships with potential clients and industry professionals through events, collaborations, and online communities. To learn more about the marketing strategies, you can read our article How to promote makeup artist business.
Organizing Photoshoots to Show Off Your Work
Organizing photoshoots is a powerful way to showcase your talent and creativity as a makeup artist. By collaborating with photographers, models, and other professionals in the industry, you can create stunning visuals that highlight your skills.
These photoshoots allow you to capture your makeup artistry in high-quality images that can be used to enhance your portfolio, attract potential clients, and leave a lasting impression. Through careful planning and attention to detail, you can curate a photoshoot that perfectly aligns with your artistic vision and demonstrates your versatility.
The images captured during these sessions serve as a visual representation of your capabilities and can be shared across various platforms, including your website, social media accounts, and marketing materials.
Organizing photoshoots not only helps you display your work but also provides an opportunity for collaboration and networking within the industry, further establishing your presence as a skilled and sought-after makeup artist.
Using Gift Certificates, Discount Coupons and Loyalty Cards
As a freelance makeup artist, utilizing gift certificates, discount coupons, and loyalty cards can be a game-changer for your business. Gift certificates offer a fantastic opportunity to attract new clients and generate additional revenue. They serve as a thoughtful and flexible gift option, allowing clients to treat their loved ones to your professional makeup services.
Discount coupons, on the other hand, provide an incentive for potential clients to try out your services at a reduced rate, enticing them to experience the value you offer. Loyalty cards, on the other hand, are a fantastic way to reward and retain your existing clients.
By implementing a loyalty program, you encourage repeat business and build strong, long-lasting relationships with your valued clients. Whether it's a discounted package, exclusive perks, or freebies, loyalty cards make your clients feel appreciated and keep them coming back for more. These strategies not only attract new clients but also foster customer loyalty, boost your reputation, and differentiate you from competitors.
Incorporating gift certificates, discount coupons, and loyalty cards into your marketing toolkit can greatly contribute to the growth and success of your freelance makeup business.
Managing Client Relationships
One of the key aspects of managing client relationships as a makeup artist is effective communication. Provide exceptional customer service to leave a lasting impression on your clients. Building and maintaining strong relationships with your clients is equally important. Not only does this lead to repeat business, but it can also result in invaluable referrals.
Maintain professionalism in all interactions, from consultations to the actual makeup application. Clearly communicate expectations and boundaries to ensure a smooth working relationship. Gain strategies for handling challenging situations and resolving conflicts effectively, ensuring client satisfaction and maintaining your professional reputation.
Financial Management
Effective financial management is key to the success of your freelance makeup artist business. Start by establishing a system to track your income, expenses, and taxes. This could involve using accounting software or hiring a professional accountant to assist you.
Set a budget and regularly review and analyze your financial statements to ensure you're making informed decisions about your business expenses and investments. It's essential to separate your personal and business finances, keeping detailed records of all transactions related to your business.
Additionally, establish clear payment terms and policies for your clients, ensuring you receive timely payments. Consider setting financial goals for your business and regularly assess your progress towards achieving them. If needed, seek professional advice to optimize your financial management practices and make strategic decisions that contribute to the growth and sustainability of your freelance makeup artist business.
By effectively managing your finances, you can secure a stable financial future and focus on providing exceptional makeup services to your clients.
Key Takeaways
As you embark on your journey as a freelance makeup artist, take time to celebrate milestones and acknowledge your growth. Remember to embrace your passion for makeup artistry and stay motivated during challenging times. With dedication, perseverance, and the knowledge gained from this guide, you are well-equipped to succeed in the dynamic world of freelance makeup artistry. Best of luck on your exciting path!