A makeup service contract is a written agreement between a makeup artist and her potential client. The make -up artist registers the services, the price and her obligations when providing the service.
It is a contract used by professional make-up artists during large make-up contracts. It is very often used for wedding makeup contracts so this type of contract will be used as an example throughout the article.
What to include in a Wedding makeup contract for makeup artist?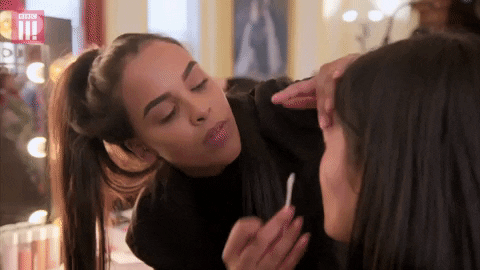 The wedding make-up service contract includes the number of people to be made up as well as all the terms of payment. It includes the details of the marriage contract, that is to say the address, the products and services included as well as the additional costs. There is also the number of make-up artist who will come during the service delivery. Generally, in a make-up marriage contract, you must also include the information of your make-up company and your client. One should include all the terms and conditions that are important to his business.
Here is an example of a condition included in the Anaivi Academy contract template.
The make-up service mentioned in this contract will only be reserved once the deposit is paid.
Payment of the balance is due the day before the wedding.
Anaivi Academy
Here is the main information to have in a make-up service contract:
BRIDE'S NAME
PHONE NUMBER
CONTRACT ADDRESS 
EMAIL
WEDDING/EVENT DATE WEDDING/EVENT
TIME
Click here to see our full wedding makeup service agreement template.
When to send the service contract?
Generally, the service contract is sent following pre-established/pre-approved discussions with its potential client. This contract includes a summary of what was discussed with the client. As far as I am concerned, before sending the marriage contract to the client, I make sure that she agrees with everything that has been discussed and that she is interested in the service offered. The service contract is different from a quotation. In general, I send a quote by email, because it takes less time and I finalize with the contract when the client is ready to make her reservation.
Make-up contract template
Writing a marriage contract takes time. When you have a lot of clients, you have to change and adapt each contract for each client. When I started to have more clients, I found that it took too much time to register all the information of each client. So I developed an automated marriage contract that allows me to simply put the information on a page and have the contract automatically generated. It's a contract template that I use for all my brides and it only takes me five minutes to update.
If you too want to save time and want to create marriage contracts as quickly as possible, here is a contract template to download.
You will offer a professional service that will save a lot of time!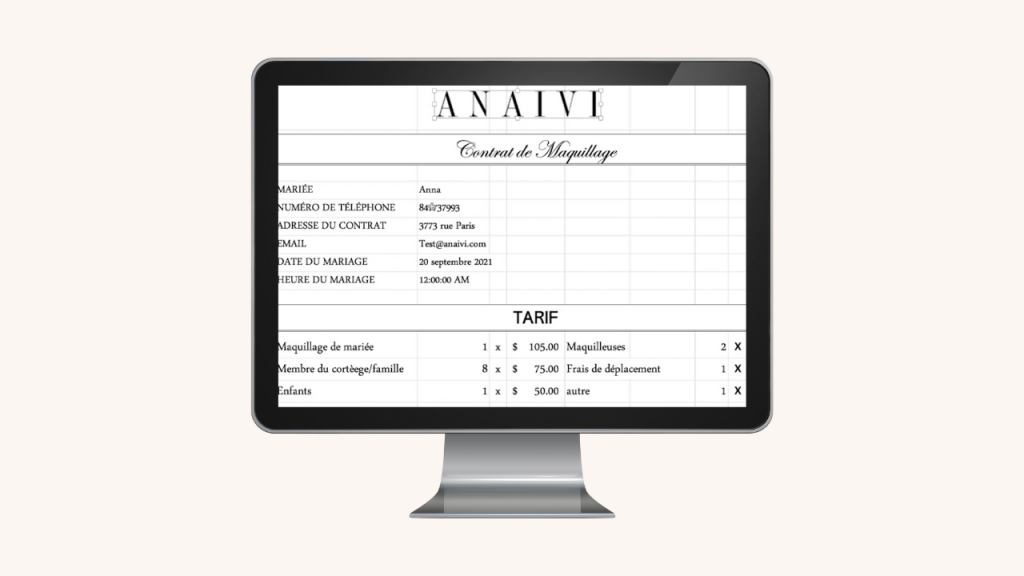 Wedding Makeup Contract Template (ENGLISH)
Is it necessary to have a contract?
When I started doing makeup I didn't have a marriage contract. I would take the information from my notes and simply write down the makeup location and the client's name. When I started having more makeup, I had a hard time keeping track of my notes and remembering all the makeup I had to do. The information was scattered all over the place so I had trouble keeping track of deposits paid, how much the person had booked and canceled. I had information by e-mail, others by text message so I decided to change that. It is not necessary to have a contract, but it is necessary to be organized.
It is very beneficial to have it.
What really made me decide to get one was when a client asked me to send her my marriage contract but I didn't have one. She didn't want to book without having a written confirmation. So I searched online, but couldn't find anything in French. After looking at what was being done in other areas, I created this marriage contract.
And you, do you have a service contract for your company?