Building a strong portfolio is essential for beginner makeup artists as it serves as a visual representation of their skills, creativity, and potential to build a successful career. A well-curated portfolio can help you land your dream job, book clients, and get noticed by industry professionals. This article aims to provide you a valuable insights and guidance on how to create an impressive portfolio that will grab the attention of clients and beauty professionals.
Defining Your Style and Niche
The first step to building a strong portfolio is to define your style and niche. What kind of makeup do you want to do? What are your strengths and weaknesses? It is crucial to research various makeup styles and trends to broaden your knowledge and inspiration. Once you know what you want to achieve, you can start to focus on developing your skills and creating a portfolio that reflects your unique style. By understanding your unique artistic style, you can also differentiate yourself in the industry and choose a niche that aligns with your passions and goals.
Building Your Skill Set
There are many ways to build your makeup skills. Enrolling in makeup courses, workshops or online courses can significantly enhance your skills and knowledge. Additionally, continuous practice, experimenting with different techniques, and embracing a diverse range of looks will help you refine your craft.
Collaborating with friends, family, or aspiring models for practice sessions can also provide valuable experience and opportunities for growth. Therefore, the more you practice, the better you will become at applying makeup.
Networking and Collaborations
Attending industry events, trade shows, and networking opportunities is a great way to get your work seen by more people and can help you connect with photographers, models, and stylists. Actively reaching out to them for collaboration projects can expand your professional network and enable you to create stunning collaborative works. The more people you know in the industry, the more opportunities you will have to showcase your work. Always remember that building relationships with professionals in the industry can lead to further opportunities and exposure.
Documenting Your Work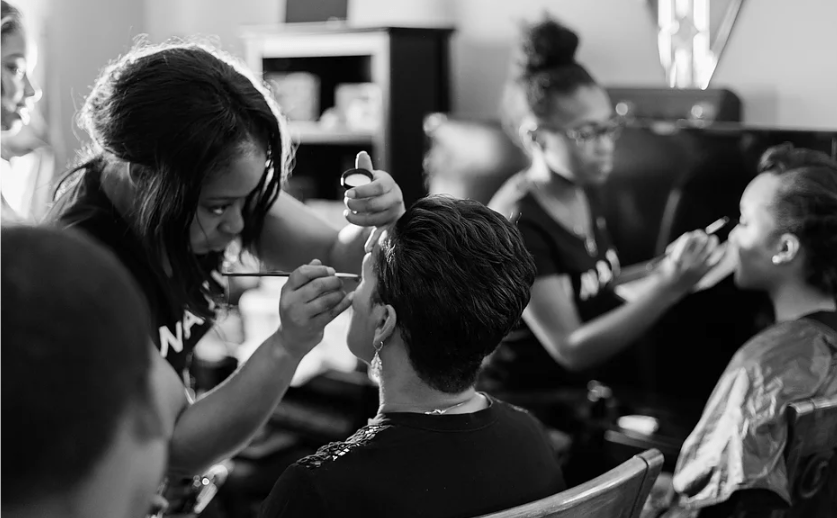 Once you have some great makeup looks, you need to document them. Invest in quality photography equipment or hire a professional photographer is crucial for capturing your makeup looks effectively. Carefully selecting models who complement your style and creating a diverse portfolio will also showcase your versatility and range. Organizing your portfolio to highlight your best work will also leave a lasting impression on potential clients.
To learn more about how to choose the best camera for your makeup service, you can read our blog post on The BEST camera for makeup artist.
Creating an Online Presence
In today's digital age, it is essential to have an online presence. Building a website or online portfolio provides a platform to showcase your work and professionalism. You can also share your work on social media platforms like Instagram and Facebook to get more wider visibility. Additionally, engaging with followers, responding to inquiries, and sharing behind-the-scenes content can help foster a loyal community and attract potential clients.
Seeking Feedback and Constructive Criticism
Joining online makeup communities and forums allows you to connect with fellow artists and seek valuable feedback. Participating in makeup competitions or challenges can further enhance your skills and gain recognition. In addition, seeking feedback from mentors or experienced professionals can provide valuable insights and guidance for improvement. Feedback can also help you identify areas where you can improve and grow as a makeup artist.
Continuously Updating and Evolving Your Portfolio
Your portfolio should be a living document. It should reflect your evolving skills and style. Regularly adding new and diverse work showcases your growth and versatility. Removing outdated or weaker pieces from your portfolio ensures that it represents your current skill level. Seeking new opportunities to challenge yourself and expand your skills will keep your portfolio fresh and exciting.
Marketing and Promoting Your Portfolio
Once you have a strong portfolio, you need to market and promote it. Actively marketing and promoting your portfolio is essential for attracting clients and opportunities. Contacting local businesses, salons, or beauty brands for potential collaborations or partnerships can open doors to new ventures. Utilizing social media advertising and marketing strategies can help you reach a wider audience. Building relationships with influencers and bloggers can generate exposure and endorsements.
Conclusion
Building a strong portfolio requires commitment, consistency, and passion for your craft. By following these guidelines, you can develop a portfolio that reflects your unique style, showcases your skills, and leaves a lasting impression. A well-curated portfolio can help you land your dream job, book clients, and get noticed by industry professionals. Remember, continuous learning and growth as a makeup artist are key to staying relevant and thriving in the industry. Always remember that is it is worth it in the end. Start building your portfolio today!